INTERNATIONAL FRIDAYS
On the first Friday of each month (and other selected days), you can watch premiere films with English subtitles at BIFFEN INTERNATIONAL - a concept targeted at North Jutland's non-Danish audience. On other days, the films are shown in their original language but with Danish subtitles.
Furthermore, Biffen shows a Cinematheque film (classics, cult films, etc.) every Tuesday night and these films are often with English subtitles as well. Programme HERE.
The Cinematheque is part of the Danish Film Institute and has an extensive collection of films that gives today's audiences a chance to experience world cinema spanning from the very beginning of film history to the latest digital releases.
VISIT BIFFEN NORDKRAFT
Biffen offers a wide variety of current films from all over the world. The cinema is placed in Aalborg's cultural centre, Nordkraft. Nordkraft offers also music, theatre and art events, as well a range of eateries, a fitness centre and fairs. The former power plant Nordkraft, is now a dynamic and diverse cultural powerhouse. 
Apart from ordinary screenings, you can also experience film festivals, Q&A's with film directors and actors and other events. Biffen is happy to organize screenings for groups of international residents/citizens, associations, organisations or companies. Biffen is an obvious meeting point for international residents in Aalborg and North Jutland with a passion for the cinema.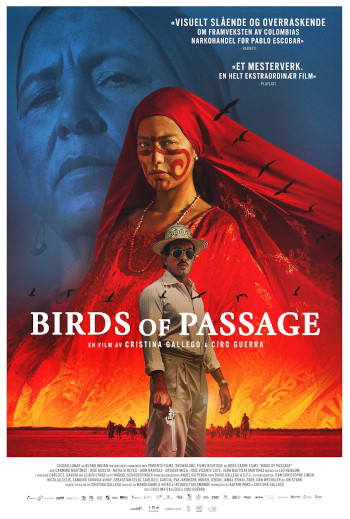 BIRDS OF PASSAGE with English subtitles
Friday 2nd of October, 20:30 
Biffen International and OxfamIbis present the award winning Columbian movie BIRDS OF PASSAGE.
During the marijuana bonanza, a violent decade that saw the origins of drug trafficking in Colombia, Rapayet and his indigenous family get involved in a war to control the business that ends up destroying their lives and their culture.
'Trækfugle' er en episk, bjergtagende fortælling om 1970'ernes narkohandel i Colombia. Det hele starter i 1969 - med 30 geder, 20 køer, to æsler og fem halskæder. Den unge Rapayet gør kur til den endnu yngre Zaida. De er begge en del af Wayuu-folket, men da Rapayet begynder at eksportere marihuana til USA, begynder den kultur, som han er rundet af, langsomt at gå til grunde. 
Billetter