INTERNATIONAL FRIDAYS
On the first Friday of each month (and other selected days), you can watch premiere films with English subtitles at BIFFEN INTERNATIONAL - a concept targeted at North Jutland's non-Danish audience. On other days, the films are shown in their original language but with Danish subtitles.
Furthermore, Biffen shows a Cinematheque film (classics, cult films, etc.) every Tuesday night and these films are often with English subtitles as well. Programme HERE.
The Cinematheque is part of the Danish Film Institute and has an extensive collection of films that gives today's audiences a chance to experience world cinema spanning from the very beginning of film history to the latest digital releases.
VISIT BIFFEN NORDKRAFT
Biffen offers a wide variety of current films from all over the world. The cinema is placed in Aalborg's cultural centre, Nordkraft. Nordkraft offers also music, theatre and art events, as well a range of eateries, a fitness centre and fairs. The former power plant Nordkraft, is now a dynamic and diverse cultural powerhouse. 
Apart from ordinary screenings, you can also experience film festivals, Q&A's with film directors and actors and other events. Biffen is happy to organize screenings for groups of international residents/citizens, associations, organisations or companies. Biffen is an obvious meeting point for international residents in Aalborg and North Jutland with a passion for the cinema.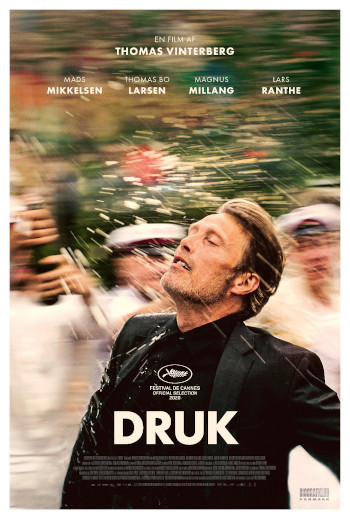 Druk (Another Round - Eng. Subt.)
4th of June, 20:50.
There's a theory that we should be born with a small amount of alcohol in our blood, and that modest inebriation opens our minds to the world around us, diminishing our problems and increasing our creativity. Heartened by that theory, Martin and three of his friends, all weary high school teachers, embark on an experiment to maintain a constant level of intoxication throughout the workday. If Churchill won WW2 in a heavy daze of alcohol, who knows what a few drops might do for them and their students?
Initial results are positive, and the teachers' little project turns into a genuine academic study. Both their classes and their results continue to improve, and the group feels alive again! As the units are knocked back, some of the participants see further improvement and others go off the rails. It becomes increasingly clear that while alcohol may have fueled great results in world history, some bold acts carry consequences.
Mere info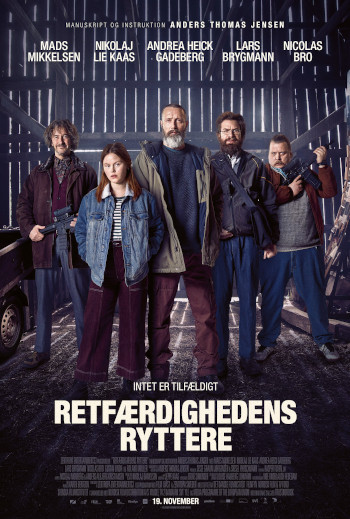 Retfærdighedens ryttere med engelske undertekster
11th of June, 20:45 
Watch the Danish film everybody is talking about at the moment - with English subtitles! And some of the most popular Danish actors including Mads Mikkelsen.
Markus has to go home to his teenage daughter, Mathilde, when his wife dies in a tragic train accident. It seems like an accident until a mathematics geek, who was also a fellow passenger on the train, and his two colleagues show up
Mere info